Written on 11/30/2022
---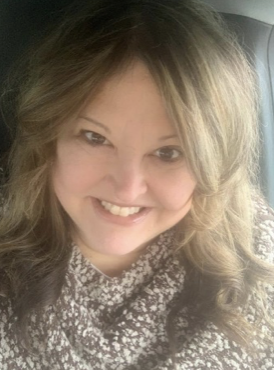 Cheryl Cloutier is the Recruiting Manager of our Medical Department. But that has not always been the case. In her long and winding history, Cheryl has worn so many hats she has gone from temporary employee on assignment through us, to Sr. Technical Recruiter/Account Manager for Technical, and beyond. Our company has greatly benefited from her adaptability and eagerness to take on new challenges. We had the chance to sit down with Cheryl and learn more about this vast history through her eyes. Get to know Cheryl and help us celebrate her various victories with Entech.
Q: Tell us about your history with Entech. Where did it all begin?
I have been with Entech for about 30 years. I graduated from Michigan State and was looking for work, so I went to a job fair and was offered an opportunity through Entech to be a temp. It was always my dream to go to MSU because green runs through my blood, but MSU did not have a PT program, and that was what I thought I wanted to do. But when I started working through Entech, I just loved it. So when they gave me the opportunity to work with them in house, I was all over it.
Q: So you started as a temp, and then an admin, and then a recruiter. What other hats have you worn here?
I became a Technical Support Specialist, mostly working for automotive. I am a technology enthusiast, so I was in technical for about 20 years. I loved being able to be in the field and obtain more business. But over time, our Medical department grew and so did the demand, so I was asked to help them out. I loved it because it was a refresh to my career—a chance to keep learning and keeps things exciting. Now I am a manager for our Medical team, which means I continue to recruit but try to guide the recruiters as well and help them work through any obstacles they might face. At Entech, we are all rooting for each other.
Q: You've been with Entech for a long time, so you've seen the evolution of it. How are things different now vs. then, and how have things stayed the same?
Entech was much more corporate back in the day—very professional. I loved how things operated back then, but I prefer the new system of operations we have now. It is so much more casual and relaxed. We have adapted with the times, and things are so much more flexible now.
Another thing that has changed is technology. There was no internet, no job boards. Our recruitment methods were entirely different. Entech has always been on the cutting edge of new technologies and willing to spend what they need and take the time to train us to make sure we are never falling behind.
One thing that's stayed consistent throughout my time here, is that Entech has always been generous. Janet, our original owner, always recognized our yearly work anniversary with a rose for the number of years of service. We had immaculate Christmas parties, like we still do now and celebrated many milestones. Entech always recognized our achievements: whether it be throwing us wedding showers, celebrating work achievements, etc. And Entech has always had quality of service as the focus. Our mentality is people buy from who they like, so developing relationships has always been key.
Q: Putting work to the side for a second, tell me about your life outside of Entech.
I have a husband named Joel, who I actually met after work with an Entech coworker. We went to Royal Oak Music Theatre, and someone spilled their drink over the balcony and when they did we looked at each other, and it was love at first sight. That was 27 years ago. We have so much in common. We are on a couples' golf league, we love music, we love to drive to new places and explore, we both adore cats. That's something Joel learned from me. I am not going to divulge how many cats we currently have, but let's just say it's more than five but less than ten. I like to consider myself a foster cat mom, but most of them are foster fails…
MSU is another huge part of my life. That obsession comes from my childhood, particularly my dad. It is a tradition. Love for MSU gives you a sense of belonging. My parents met there, I met friends I have had for years there. When we are driving, I will be much more likely to let a car pass me if they have an MSU bumper sticker.
Q: Thank you for sharing so much about your life both inside and outside of Entech. Maybe to wrap things up you could share one of your favorite Entech memories?
There are just so many! One of my favorite memories is from when I was in my 20s. As a company we would close up on a Friday night and all go down to Kick's bar. There would always be a rotating crew of people, whoever wanted to go and was free would come. That went on for years. There are still several employees working here to this day that will remember that.
Thank you for a lifetime of memories with us, Cheryl. We are honored to have you as a part of our Entech family!