A Little Bit About Who We Are
Learn about our history and expertise in the medical staffing industry!
Our History
Upon arranging a selective asset-based purchase of Entech Personnel Services, Inc. in April 2009, co-owners Kathy Camara and Amy Gross forged HR Staffing Team, LLC, the parent company that has since given rise to Entech Staffing Solutions, Entech Medical Staffing and Labor Staffing Solutions. Having both grown up (personally and professionally) in and around the Human Resources and Staffing Industry, Kathy and Amy understand that being successful is more than just turning a profit. It's about maintaining clear objectives, consistently achieving goals and building REAL relationships to support their clients' goals and objectives.
Sourcing and hiring temporary employees is always an important issue for today's businesses, so it only makes sense to partner with a regional job market expert with deep community roots and an unwavering commitment to help Michigan businesses and their employees succeed. So with a keen focus on effectiveness and efficiency, Entech Staffing Solutions' mission is to provide the most qualified employees to its customers while maintaining a competitive pricing model.
Our Expertise
Entech Medical Staffing (Entech) is a woman-owned (WBENC Certified), regional provider of specialized staffing solutions. We recruit, screen, interview, evaluate and credential all candidates in preparation for them becoming successful and valued employees. Our nimble and efficient size affords us greater flexibility and responsiveness than our larger national counterparts- making us an ideal business partner for Michigan's emerging healthcare and medical industry!
---
Job Categories We Staff
Registered Nurses (RN's)
Licensed Practicing Nurses (LPN's)
Therapists
X-Ray Technicians
Phlebotomists
Medical Assistants
Medical Billers
Medical Receptionists
Medical Technologists
and more!
---
Staffing Options We Support
Temporary
Temporary to Direct
Direct Hire
Payroll Services
---
We're ISO Compliant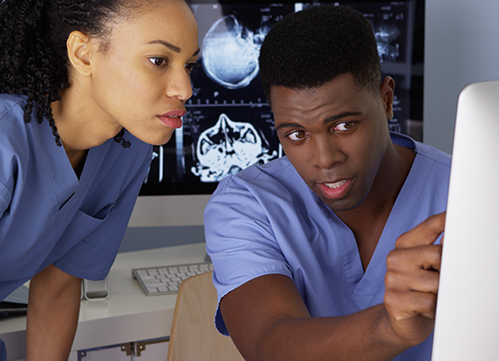 All HR Staffing Team companies maintain a strict quality control system that is not only consistent with, but often exceeds ISO 9001 regulations.
Entech is committed to the ideals of value, service and quality. With the majority of our staffing specialists possessing 15+ years of professional staffing experience, we strive to enable our clients to operate their businesses more efficiently (and profitably) by consistently providing innovative staffing solutions- putting the right people in the right place at the right time. Our commitment to understanding your business from the inside out, providing cost-effective solutions and our unwavering attention to detail is what makes us a leader in the staffing industry. At the end of the day, innovative staffing solutions allow our customers to focus on managing their business- not staffing it.
Entech continues to set the standard for complete customer satisfaction by consistently providing dependable, qualified individuals who meet your exact requirements. And as your business grows and evolves to meet the changing needs of your customers, we regularly review those requirements to ensure we continue to put the right people in the right place at the right time for you. Simply put, we're not satisfied unless you are!
Our Continued Commitment
Our uncommon emphasis on honesty and integrity is the core of WHO we are and WHAT we do. It's what makes our open channels of communication and visibility at the work site* (*when requested and/or necessary) feel unique. It's what allows us to forge long-term relationships with ALL of our clients. And it's what defines our passion for doing what we love while helping others succeed!

EMS is Proud to be a Michigan-based Business
Entech is a regional provider and is committed to being an integral part of the continued growth of our local Michigan economy.